MLCO Collection Outing – November 10, 2018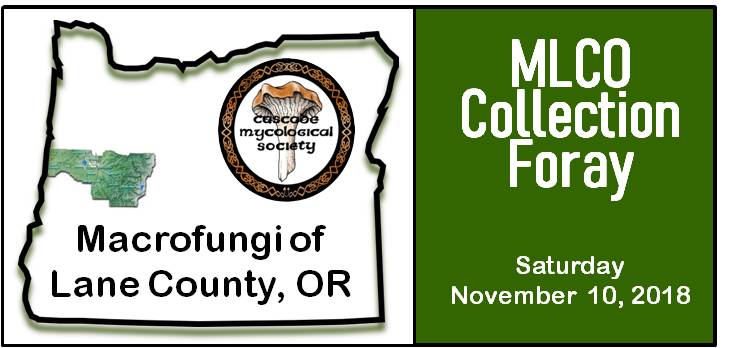 The rain has started so it is time to put on your citizen scientist hat. Join us for a Macrofungi of Lane County Oregon (MLCO) project collection outing. The purpose of this scientific outing is to collect, document, identify, and voucher mushrooms that will be added to the Macrofungi of Lane County database of macrofungi. The specimens that are collected will be dried, submitted for DNA testing, then placed in the herbarium at OSU. Note: novice mushroom nerds are welcome!
Your foray leader will be Bruce Newhouse. For many years, Bruce and his partner/wife Peg Boulay have been the co-coordinators responsible for organizing the fabulous mushroom display at the annual Mount Pisgah Arboretum Mushroom Festival. In addition to the Mushroom Festival, Bruce and Peg also teach an annual Wild Mushroom class at REI in Eugene and often do mushroom walks for Hendricks Park, Mount Pisgah Arboretum, and for Oregon Wild. Bruce is also active in numerous community organizations related to ecology. His education and experience focus on botany, and ecological relationships between plants, wildlife, fungi, and other organisms. As the principal/owner and operator of Salix Associates, he has 35 years of experience in field ecology and natural resource planning in Oregon.
# of participants is 15

Children accompanied by an adult are welcome
Please read below to understand what participants will be doing on this outing and the "homework" you will be responsible for prior to attending this event. Do not register for this event unless you are willing to come to the event prepared (i.e. you did your homework) and with the goal of collecting mushroom specimens for the MLCO project.
Here are the details on what you will be doing:
With your partner(s), determine a mushroom species to collect in the field while looking at it, not picking yet. It is ideal to have more than one specimen to capture variation. (Eventually, we'll have a list of needed species. But that is not likely this first time.) You do NOT have to know what it is as we will do "show and tell" during the trip.

PHOTOGRAPH it from several angles WITH THE COLLECTION SLIP NUMBER VISIBLE IN EACH PHOTO. (Your phone camera works fine for this, with GPS location turned ON.) Photos must show the mushroom as it is growing, then, assuming there are more than one, take a photo showing one or two pulled and laying on their sides, next to some still standing. Do a close-up of the gills or pores if it has them. (Obviously, you can't do that if it is a coral or another species where you can't see gills or pores.) Take several photographs of each angle and position as above, with and without flash. How to handle unusual fungi, such as corals and resupinates, will be demonstrated.

Collect young and mature examples, if possible, and gently place in a wax paper bag. Record location, date, habitat on a slip. Take notes on color, smell.

Repeat 1-2-3 (above) a couple more times if you can with other species. Minimize handling of mushrooms. Not all collections will be sent for sequencing, but all good collections are important!

Reconvene with the group at the appointed time and place (usually back at the parked cars.). The initial ID of collections will occur. Gentle packing into boxes for later processing.

Meet back at our starting location to load mushroom species collected into dehydrators. Go out for a beer/cider/burger and talk about the fun day and how everything went! (Optional of course!)
******* VERY IMPORTANT ******** REQUIRED ADVANCE PREPARATIONS ******
View Christian Schwarz's video about mushrooming and iNaturalist –

Click here 

to view.

Download the iNaturalist (iNat) App on your phone: Android App on Google play or the Apple store for iPhone
View the iNaturalist video on how to make an observation here
Extra Credit – Read Michael Kuo's "How to Study Mushrooms" on the Mushroom Expert web site.
Bring a camera (phone camera is fine) and a small notebook ("Rite-In-the-Rain" recommended) in addition to all the other standard foray items listed on the CMS Foray page.