Meeting – September 20, 2017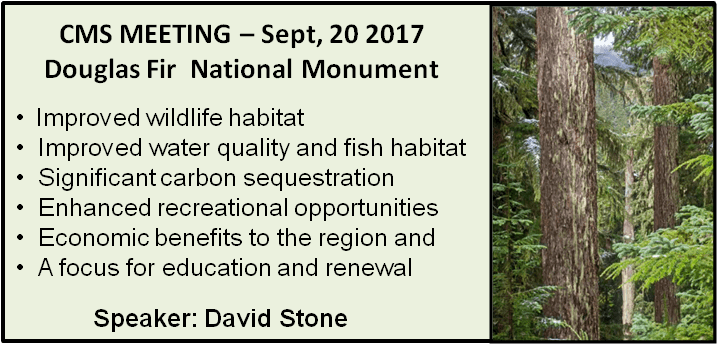 When: Wednesday, September 20, 2017 from 7:00 pm to 9:00 pm 
Where: Amazon Community Center, 2700 Hilyard St, Eugene, Oregon 97405
David Stone, the President of the "Friends of Douglas Fir National Monument", will be the speaker for our first meeting of the 2017-2018 season. Mr. Stone will talk to us about his organizations goal to establish Douglas-fir National Monument comprising federal public lands in the upper North, Middle and South Santiam watersheds in Oregon, to conserve and fully restore a naturally functioning landscape dominated by old-growth forests, as well as to protect the scenic beauty and recreational opportunities for the benefit of this and future generations.
Mr. Stone will also lead an outing on Saturday, September 23rd to the proposed area of the Douglas-fir National Monument. This outing will be dual purpose, to show us the area and also to foray for mushrooms. CMS Vice President Chris Melotti will be the CMS foray leader and mushroom identifier for the foray. Foray registration will open on Monday, September 18th. 
About the Speaker: David Stone is the President of "Friends of Douglas Fir National Monument", a conservation photographer and a long-time advocate for the natural world. He co-founded the Waldo Wilderness Council, served six years as the Conservation Chair for the Lane County Audubon Society and has served on the boards of the Mount Pisgah Arboretum and Friends of the Malheur Wildlife Refuge. He taught Nature Photography in Eugene for twenty years.
The talk is free and open to the public. There will be a mushroom identification session prior to the speaker. Bring what's in your basket, edible or not, and learn from the experienced members of our community.