Meet the Artists – Zoe, Mike, and Erik
Zoe Keller, Mike Potts, and Erik Roggeveen  are three of the fifteen Artists featured in the Morning Glory Cafe Mushroom Art Exhibit sponsored by the Cascade Mycological Society.  If you would like to see their artwork along with many other Mushroom themed artworks, please visit the Cafe now through October 31st. Morning Glory Cafe is located at 450 Willamette St., Eugene, OR (next to the train station), Cafe hours are 7:30am-3:30pm.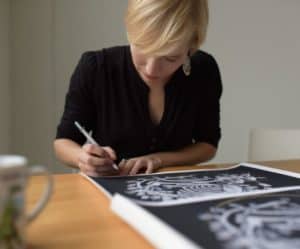 Zoe Keller is a studio illustrator based in Portland, Oregon. Using graphite and ink, she blends narrative with traditional scientific illustration to create highly detailed imagery exploring the natural world. A Woodstock, New York native, Zoe spends most of her time drawing in her small home studio. She gathers inspiration from slow explorations of landscapes, hours spent thumbing through her growing field guide collection, and her memories of time spent in forests and on shores across the midwest and northeast.
You can find more of Zoe's original artwork for sale on her website: http://www.zoekeller.com/
Zoe has illustrated two coloring books. They are both available from Timber Press, or at most local bookstore.
Color the Natural World, released in November 2015.
Color the Pacific Northwest, released in June 2016.
========================================================================================================================
I learned about Mike Potts through the 2014 CMS Photograph Contest.  Of coarse, I went through all my mushroom photographs and selected the best 3 to submit.  I thought for sure I had a winner among them … until I saw Mike's photograph Co-Exist; which did the win the contest.   I was happy to hear that in addition to being a Professional Photographer, Mike also knows his mushrooms. He is considered to be a local expert in mushroom identification in the Southern Oregon area. Mike teaches Mushroom Identification classes and leads forays for the Siskiyou Field Institute.
Mike Potts found both his passion for photography and the natural world near his home town of Talent, Oregon. He began by documenting mushrooms in the nearby forests and woodlands of Southern Oregon. Inspired by the beautiful scenery around him, he now photographs everything from mushrooms and wildflowers to scenic landscapes and the night sky.  Mike's photographs can be seen in 1859 Oregon's Magazine, the cover of the Medford phone directory, and in the Audubon Mushroom Field Guide app for i-phone.
You may contact Mike at: oregontreespirit@gmail.com
==================================================================================================================
Erik Roggeveen is a Eugene-based artist specializing in screenprinting and painting. His work has been animated on the Conan TV show, painted on buildings, and hung in the Museum of Rock and Roll History. With an avid mycologist for a mother, he has been exposed to a lifetime of mushroom experience, photography and related artwork. He works with his wife of 25 years, Lisa de Rave, in their poster printing workshop that they built from the ground up.
You can see more of Erik's artwork at www.HappyfaceEmpire.com and Erik can be contacted at HappyfaceEmpire@gmail.com