Meet the Artists – Lucy, Sarah, and Skye
Lucy Martin, Dr. Sarah Robinson, and Dr. Skye Weintraub are three of the fifteen Artists featured in the Morning Glory Cafe Mushroom Art Exhibit sponsored by the Cascade Mycological Society.  If you would like to see their artwork along with many other Mushroom themed artworks, please visit the Cafe now through October 31st. Morning Glory Cafe is located at 450 Willamette St., Eugene, OR (next to the train station), Cafe hours are 7:30am-3:30pm.
Like many of the artists, I heard about Lucy through "word of mouth". CMS had several members speak at and attend Soma Camp; an annual gathering of mushroom enthusiasts sponsored by the Sonoma County Mycological Association. When I started talking about a Mushroom Art Exhibit, Lucy was recommended by several people who had attended. I am especially fond of her print "Nine Edibles".
Lucy Martin's greatest joy has always been exploring the natural world. Her attraction to the strangeness and mystery found in nature has led her to focus in recent years on the marvels of the kingdom of fungi. Lucy paints mushrooms as very much part of their environment, rather than as isolated specimens. The decaying leaves, acorns, fir cones and moss, the lichen and mossy stump, are as important as the mushrooms themselves in her compositions. She thinks of her paintings as small landscapes–glimpses of the forest floor.
She began painting mushrooms when she moved to the Santa Cruz mountains in 2006. The abundant winter rainfall and the great botanical diversity in this area makes it a wonderful place to find mushrooms. Many of her paintings are set in these mountains, but she has also found subjects for paintings in Mendocino, the Sierras, Washington state, the Rocky Mountains of Colorado, and Pennsylvania. Now she lives in Sonoma County and hopes to travel more in coming years to discover new mushrooms.
Lucy Martin has been drawing and painting most of her life. She is largely self-taught, with occasion formal study. She studied gouache technique with the artist and illustrator Maryjo Koch, in Bonny Doon, California. She paints in gouache and watercolor, with occasional use of colored pencil. Lucy hopes to convey her deep love for nature, especially for what is often overlooked: those small, unexpected and delightful things we can discover when we look closely.
You can find more of Lucy's artwork and information on how to purchase cards, prints, and original paintings  at her website: http://www.lucymartinart.com/
Finding Sarah was easy, as she came to me! Well, kind of.  She was a guest speaker at a CMS meeting last May; about the time I was starting to invite artists to display as part of the exhibit.  Her talent is very unique and her talk was very informative, and I was anxious to see her spalted wood bowls in person. So, as soon as the talk ended I asked if she would consider being a part of the Mushroom Art Exhibit.  Luckily, the bowls she normally exhibits would be available. It was Sarah's bowls that started me down the path to include 3-D art pieces in the exhibit, rather than just paintings, photographs, and prints. It was a challenge to figure out how to display some of the 3-D art, but it was well worth the effort.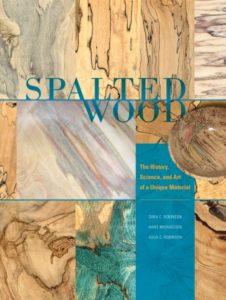 Dr. Sara Robinson of Oregon State University has spent close to one-third of her life studying the interactions of different fungal species in wood. The process of wood spalting produces a stunning array of colors in wood by directing the specific interactions of living fungi. Her pioneering work "bridges the gap between artists, scientists, designers, architects, and engineers who utilize wood resources." Despite having no desire to attend college in her youth, Sarah received her PHD in Wood Science from Michigan Technologic University in 2010 and joined Oregon State University as an Assistant Professor for the Department of Wood Science and Engineering in 2013.           Her love of woodworking set her on an early path to becoming a  world-renowned Bio Artist whose shows take her all over the world.
Sara's first book on the subject titled "Spalted Wood: The History, Science, and Art of a Unique Material", is  available on Amazon.com.
To see more of Sara's amazing work, learn more about Spalted wood research, purchase Spalted wood, or find out about Spalting workshops; check out the website maintained by the Applied Mycology Lab at Oregon State University: http://www.northernspalting.com/
To purchase one of these bowls, contact Sara at: sara.robinson@oregonstate.edu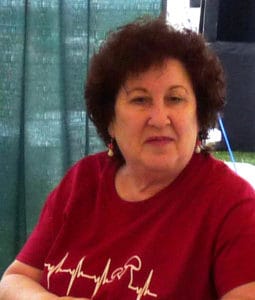 Skye was another easy find, as she is a Past President of CMS.  She was a student of CMS founder Freeman Rowe, who taught the very popular "Biology of Mushrooms" class at Lane Community Colege (LCC). When I thought about including an Education Section in the Mushroom Art Exhibit, Dr. Skye Weintraub is the first person I turned to.  She is not exactly an artist, more like a curator of Educational Mushroom Art in the form of thousands of mushroom photographs that have been taken by local Mycologists and Mushroom enthusiasts over the years. When you stop by the Cafe, be sure to check out her very informative "Tasty or Toxic" Educational Art, and also pick up one of her FREE bookmarks. You will find her on the back wall with other Educational Mushroom Art.
Wild Mushrooms of the Pacific Northwest is an educational website sponsored by a Eugene based 501(3)(c) non-profit. The website has a unique beginning rooted in the rich history of Mycology of the local area. Several years ago, Dr. Skye Weintraub became aware of the many mushroom photographs that had been taken over the years by professional and amateur mycologists and hobby mushroom foragers.  There was a wealth of information and beauty in these mushroom photographs that were now collecting dust in the form of slides in boxes at Lane community college, and hardcopy photos in drawers that had been passed down to family members or donated to Mushroom Clubs.
Dr. Weintraub made it her mission to protect these photos and slides from obscurity; so she set out to obtain the rights to them. Perhaps these photos could be used in a mushroom book, or a computer program to help people learn to identify mushrooms.  As the project grew, others donated their photographs. In 2016, the website Wild Mushrooms of the Pacific Northwest came to life.  Here you will find mushroom safety information, tips on collecting mushrooms, mushroom biology and habitat, how to identify mushrooms to species, and so much more. There are also Mushroom Flashcards, and a monthly newsletter.
To learn more about Mushrooms and this unique Eugene-based website, go to: http://www.wildmushroomspnw.com/