General Meeting : Thursday March 14, 7:00pm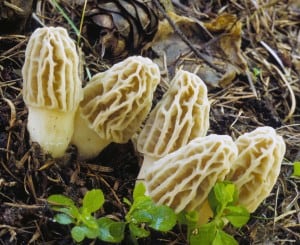 This Thursday, March 14, the CMS general meeting will feature our very own Chris Melotti, who will be presenting "Morels, Truffles and Other Spring Mushrooms". This presentation was originally created by Dr. Micheal Beug, who will not be in attendance. While spring is not the peak time for northwest mushrooms, there are still plenty of interesting fungi out there, please join us for some interesting photos and discussion of what can be found at this season.
Dr. Michael Beug taught chemistry, mycology and organic farming at The Evergreen State College in Olympia, Washington for 32 years. He lectures to mushroom enthusiasts throughout the West and loves to teach beginners workshops. His mushroom photographs have appeared in over 30 books and articles on mushrooms. He is a member of the North American Mycological Association (NAMA) where he serves as Editor of the journal McIlvainea, Chair of the Toxicology Committee, and member of the Education Committee. Michael was winner of the 2006 NAMA Award for Contributions to Amateur Mycology and has prepared over two dozen PowerPoint presentations about mushrooms for the NAMA Education Committee.
Our general meetings are the second Thursday of the month. Meet at 7 PM, Room 115, Science Building (Building 16) at Lane Community College in Eugene.  As always, the presentation is free and open to the public.