Mt. Pisgah Mushroom Species List has been updated for 2010 to include data up to the 2009 Mushroom Show.
Download the mt_pisgah_show_list_1983-2009 (PDF), or mt_pisgah_show_list_1983-2009 (XLS).
Indications of hepatic and cardiac toxicity caused by subchronic Tricholoma
flavovirens consumption
P. Nieminena, V. Kärjäb, and A.-M. Mustonena
Food and Chemical Toxicology
Volume 46, Issue 2, February 2008, Pages 781-786
The confirmed finding of increased plasma CK activities and the novel observations of the present study – increased CK-MB activities, elevated plasma bilirubin concentrations and signs of pericardial inflammation – indicate that regular T. flavovirens consumption should not be recommended.
The results also enforce previous findings that the harmful effects probably require prolonged exposure and high amounts of ingested mushroom. In this context, occasional consumption of T. flavovirens would probably be harmless except in sensitive individuals, such as persons on medication, children or during pregnancy (see also Tofani, 2003).
Due to the findings of toxicity after repeated meals and controversy regarding the taxonomical position of T. flavovirens, the marketing of T. equestre (or T. flavovirens or T. auratum) was recently prohibited in Italy (Ministero della Salute, 2002), France (Ministère de la Sante et des Solidarites, 2004) and Spain (Ministerio de Sanidad y Consumo, 2006) and, in contrast to the situation after the first findings of toxicity (Korhonen, 2002), T. flavovirens is no longer considered edible in the most
recent Finnish textbooks (Salo et al., 2006).
5. Conclusions
(1) No morbidity or mortality could be detected in the mice consuming freshly frozen T. flavovirens at 12 g kg?1 d?1 for 4 weeks. (2) The exposed mice had higher plasma bilirubin concentrations and higher CK and CK-MB activities than the control mice indicating hepato-, myo- and cardiotoxicity. (3) Signs of hepato- or myotoxicity were not present in the histological samples, but the cardiac samples showed increased incidence of pericardial inflammation in the T. flavovirens-fed mice. (4) Repeated consumption of T. flavovirens should be avoided.
Between 1964 and 1992, Texaco spilled over 18.5 billion gallons of highly toxic waste into 600 open unlined pits. Little has been cleaned up. These pools contain a mixture of oil, heavy metals and radioactive substances that continues to overflow and seep into the water table, resurfacing in rivers and wells.
The Amazon Mycorenewal Project brings this exciting technique to the Amazon for
the first time ever. A coalition of Ecuadorian and international non-governmental organizations is partnering with local people to remediate their lands using mycelium as well as grow edible and medicinal mushrooms for consumption and income generation.
The Deschutes National Forest, in conjunction with , is conducting surveys of matsutake fruiting grounds to identify the impact of forest thinning. The American matsutake is a highly prized edible mushroom, the commercial harvest representing a multimillion dollar industry. Volunteers will help locate matsutake mushrooms and collect soil samples and field data. Matsutake have a symbiotic relationship with "candystick" plants (see below), which are used by volunteers and mushroom harvesters, to locate the mushrooms.
When: Mid Sept – Mid Oct
Contact: Desiree Johnson –at- 541-678-3003 -or- calypsobulbosa@gmail.com
2010 Matsutake Survey Volunteers Needed

We have updated species lists for the Mt. Pisgah Mushroom Show, Hendricks Park and the Common Mushroom Check List:
Thanks to Bruce for providing this excellent resource! The lists now contain data for 25 years at the Mt. Pisgah.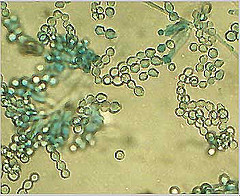 The American Academy of Microbiology has released its newest colloquium report, "The Fungal Kingdom: Diverse and Essential Roles in Earth's Ecosystem."
The report is the product of a colloquium convened by the Academy in November 2007, where experts in mycology, medicine, plant pathogens, and ecology discussed the current state of research in mycology and compiled a list of specific recommendations for future work. This report explores the roles fungi play in the world around us. Fungi can cause a number of life-threatening diseases, but they also are becoming increasingly useful to science and manufacturing every year. Research is critically needed in this field to bring about a better understanding of this kingdom.
You may access the report in its entirety at American Academy of Microbiology.

CMS has been proud to offer the Outstanding Research Project Scholarship since 2008. The scholarship is for college students (community college, undergraduate, or graduate) who are engaging in mycology research. The scholarship will be awarded for the research project that forward the understanding of the biology and ecology of fungi or that demonstrates the practical uses of fungi. The successful candidate will receive up to $1,000 and will be expected to present the results of her research at a CMS general meeting. Applications are due annually by March 1.  For more information, please e-mail president@casecademyco.org.
Mount Pisgah Mushroom Show Species List 1983-2006
Download Excel Spreadsheet
Download PDF

Hendricks Park Species List
Download Word Document
Image Courtesy M.Johnson

This is a "huge" fundraiser for CMS.
LATE BREAKING NEWS, FALL OF 2005:

Bridgeoporus nobilissimus sighting by CMS surveyors confirmed!

This is an 2005 update to the 2003 CMS surveys for the elusive Fuzzy Green Pizza! Following up on CMS's Bridgeoporus nobilissimus survey contract with the Forest Service, we have this update: Molly Widmer spotted found one of these rare giant polypores in the Gordon Lakes area of the Sweet Home Ranger District. District Botanist Alice Smith confirmed the find to us recently. This unusual conk fungus only grows with true fir at high elevations (above the ?true fir line?) and only in the west-side forests of the Pacific Northwest. If the area around the discovery is not already protected, the confirmed presence of Bridgeoporus could result in this beautiful area receiving additional protection from logging and other human disturbance. Add to this the funds that CMS earned for the survey work, and it appears the project has been quite a success! Special thanks to Chris Melotti, originator and organizer of the proposal and of many survey trips.

The folowing is the original information on the reseach and survey project by CMS.

You won't find it lurking in the dark, hidden corners of your refridgerator. It lives in the beautiful Cascade Mountains, growing in old-growth forests or on large remnant stumps. It is Bridgeoporus nobilissimus, usually called the "noble polypore," but affectionately known as the "green pizza with a crew cut." It is a rare fungus, known only from westside forests in the Pacific Northwest. To learn more about this conk, Cascade Mycological Society joined with the US Forest Service to conduct surveys for research on its distribution and habitat.

In 2003, Cascade Mycological Society entered into a Challenge Cost Share Agreement with the Willamette National Forest's Sweet Home and Detroit Ranger Districts. B. nobbilissimus (or BRNO) is a perennial conk which can grow to huge proportions. BRNO is a "Survey & Manage" species which will get protection when found.'Underside of BRNO' This was an excellent opportunity for people to gain experience looking for this rare species. Training was provided, however, participants found that this was HARD WORK. The effort was fun, even with the steep ground, wet weather and all the usual things that come with "bushwhacking" through all ages of forests in the Cascades.

We conducted "intuitive controlled surveys" for this rare species. Chris Melotti was the coordinator with the help of experienced and novice fungi surveyors alike.


Botanist Susan Holmes posing next to
a BRNO she found doing her surveying.