2018 Festival Collection Foray – Cascades
Join us for a CMS Members Only foray to collect for the
Mount Pisgah Arboretum Mushroom Festival display.
CMS is known for putting together the largest display of mushrooms identified to species on the west coast! Here is your opportunity to be a part of that display.  You may even find a mushroom that has never been displayed at previous festivals – we love new species additions. Or, better yet, you may find a mushroom that is selected for the Best in Show award! Collecting for the mushroom festival is always fun. Yes, you can also pick up a few edibles along the way, but this is the time to open your eyes to all the fungi in our forest and fill your basket with the beautiful, the bizarre, and every fungus you can find!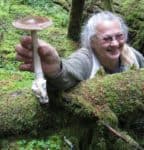 Marcia Peeters is a co-founder of the Cascade Mycological Society and the former instructor of the Biology of Mushrooms class at Lane Community College.  Marcia has been foraging for mushrooms since the early 80s and has lead forays both privately and for CMS. Many CMS members have been taught the basics of mushroom identification from Marcia and she has contributed many hours as an expert identifier for the Mushroom Festival.
Loretta Houston will co-lead the foray.
Registration limit: 20, Families with children are welcome, please no pets.
To view the foray schedule for the 2017-2018 season please go to our Member Foray Page.
IMPORTANT: In order to accommodate foray participation by as many members as possible, we are requesting members do not register for both the Wherever the Mushrooms Are foray on Saturday (Oct 20th) and the Cascade Foray on Sunday (Oct 21st).