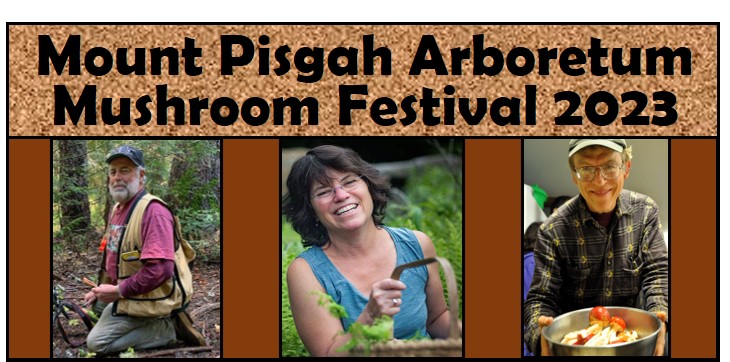 CMS will once again be supporting the Mount Pisgah Arboretum (MPA) Mushroom Festival; our largest educational event of the year. Always the last Sunday in October, the 2023 MPA Mushroom festival will be on October 29th. We have some exciting guests for this year's festival.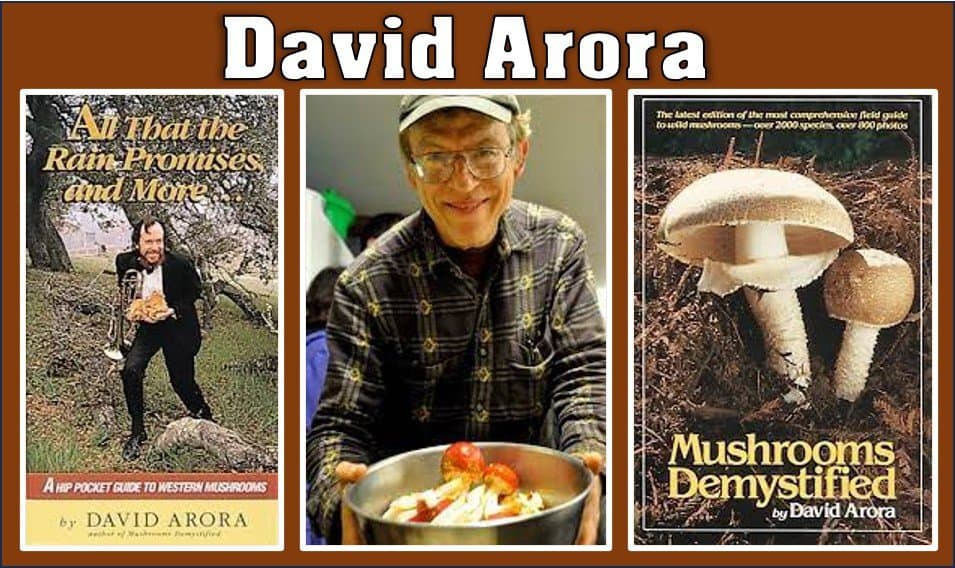 We are so happy to be welcoming back the legendary David Arora. David is the author of what most west coast mycologists and mushroom foragers know as the Mushroom Bible, "Mushrooms Demystified". And, the most popular beginner mushroom field guide, "All that the Rain Promises". See for yourself in this article titled Best selling mushroom books of all time. David will speak on Friday Oct 27th, and will be at the festival.
The Talks on the Terrace will be back in a big way this year. Melany Kahn, author of a children's book titled "Mason Goes Mushrooming" will be in the terrace area all day. In addition to short presentations, book readings, and cooking demos throughout the day; parents and children will be able to actively participate in mushroom educational activities and crafts.
Festival Activities:
The CMS Mushroom display where you can learn about hundreds of local species!
Edible and Poisonous Mushroom Tent, staffed by knowledgeable CMS members
Live Music
Hayrides are back!
Talks on the Terrace is back!
Guided Nature Walks by local naturalists
Mushroom Vendors
Local foods, arts, and crafts
Cider pressing and the scarecrow contest
This, and all festivals going forward will require advanced tickets for entry. Purchase tickets at the
It appears we will have plenty of rain in time for the CMS member field trips to collect mushrooms for the display in the days prior to the festival. If you want to collect mushrooms on your own, please do. You should follow the instructions on this page, and drop off your mushrooms on Saturday, October 28th, at the Arboretum (White Oak Pavilion) between 9am and 3pm.
Expert Identifiers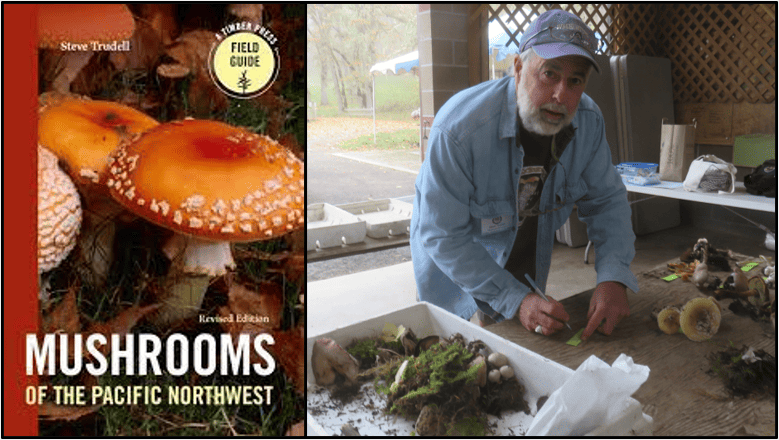 CMS will be welcoming back Steve Trudell to help identify mushrooms gathered for the display. A mushroom is not placed on the display until it is identified to species (or group/complex). On Sunday Steve will be at the Expert ID table which will be back inside the White Oak Pavilion (next to the large mushroom display). If you have mushrooms you would like identified bring them to the festival. Who knows, the mushroom you bring in could possibly be a mushroom that is new to the show, or perhaps Best in Show! 
Steve will be joined by Efrén Cázares who is an expert on coral mushrooms (genus Ramaria). Without Efren's knowledge and examination of species with a microscope, the Ramaria section will be very sparse.
Ron Hamill our favorite local identifier will also be helping with ID on Saturday. Steve is a CMS Founding member and member of the Pacific Northwest Key Council. Ron has worked as a field mycologist and botanist for more than 25 years, doing surveys to describe habitats, and to record and document rare and uncommon species from California to Alaska.
Students from the Lane Community College Biology of Mushroom class will also be collecting mushrooms and will be on hand Saturday to help setup the display.
Due to a prior Saturday commitment; Noah Siegel is not available to help with mushroom identification this year, But, he may stop by the festival on Sunday to answer your questions with Steve at the Expert ID table.
CMS Sales Booth
The CMS sales booth will be located just outside the White Oak Pavilion. Feel free to ask any of our volunteers questions about CMS. You will also be able to purchase a CMS 2023 mushroom t-shirt. This year's artist, Melissa Reyes, sketched a trio of Cortinarius violaceous mushrooms depicted here on an orange background (t-shirt colors are TBD). We will have both long sleeve and short sleeve available along with a few t-shirts from past years. We will also have the CMS Wild mushroom cookbook, mushroom earrings and pendants, mushroom wine charms, and mushroom magnets. Be sure to mention if you are a CMS member to receive your member discount.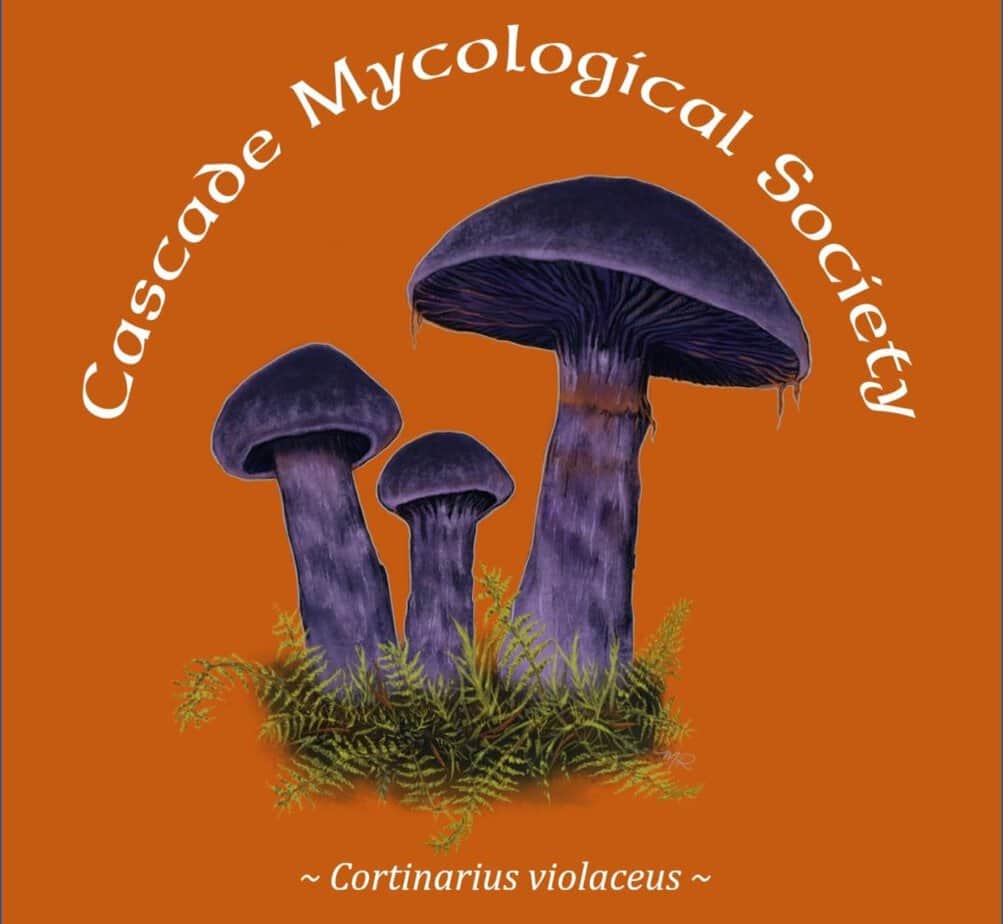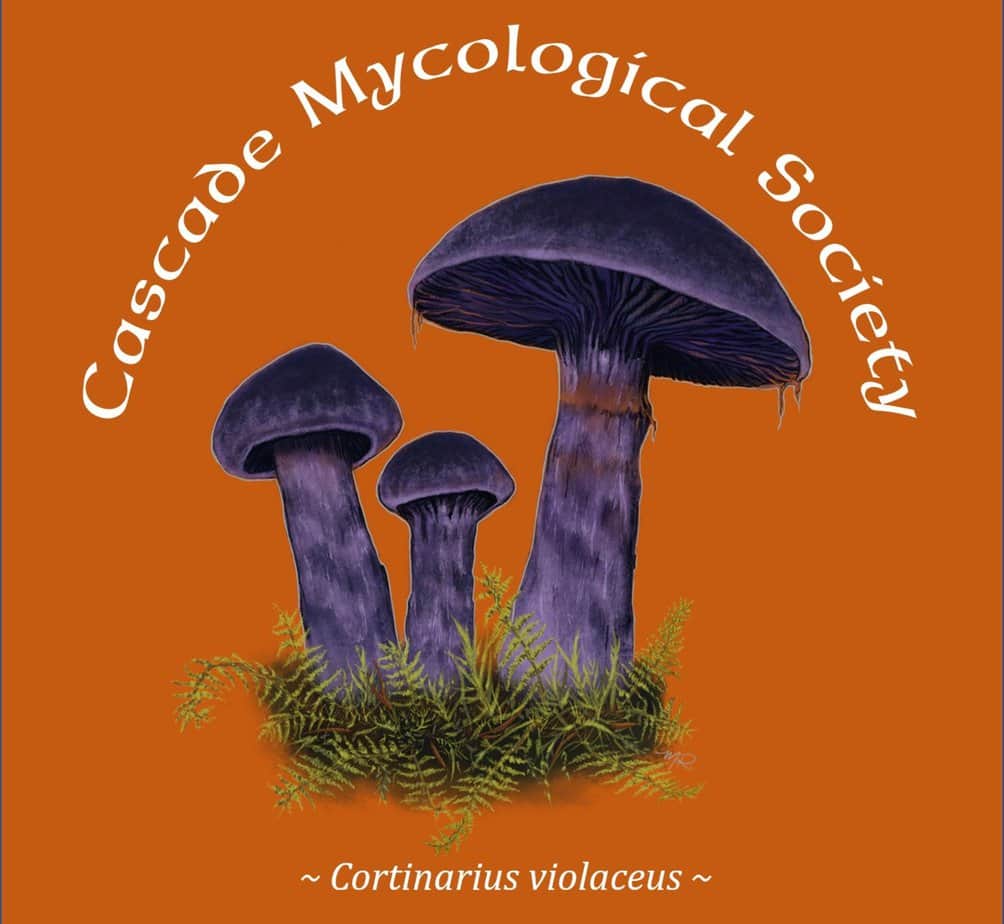 Festival Mycoblitz
The CMS Macrofungi of Lane County Oregon Project will be sponsoring an online mycoblitz from October 19th to the 28th to celebrate the festival.