2019/2020 CMS Board of Directors
(All Board Members are volunteers)
The general CMS Members are required to vote annually on the slate of Board of Directors for the coming year. Voting is a requirement to maintain our 501(c)(3) non-profit status. Your vote confirms/re-affirms the all-volunteer CMS Board is acceptable to you. The Board positions (President, Vice, Treasurer, etc.) are voted on by the elected Board of Directors.
Cheshire Mayrsohn (President)
Cheshire is the current CMS President (since 2014), she is a founding member of CMS, and has been on and off the Board of Directors, serving as newsletter editor, foray coordinator, vice president, and speaker coordinator.  Cheshire is a recently retired botanist for the BLM and has been foraging for edible plants and mushrooms since childhood.  Her interest in mushrooms of the Pacific Northwest started with attending Freeman Rowe's Biology of Mushrooms class at LCC in 1983.  She has been an integral part of creating the mushroom display at the Mount Pisgah Arboretum (MPS) Mushroom Festival since its inception in 1983. Her interest in mushrooms and lichens and knitting has led her to become a local expert on dyeing fiber with lichens and mushrooms. She is also active with NW Lichenologists and does the lichen display at the Mushroom Festival.
Chris Melotti (Vice President & Speaker Coordinator) 
Chris is a Wildlife & Ecology Consultant, a former BLM Wildlife Biologist, and grew up in Pennsylvania in a mushroom loving family.  After attending LCC's Biology of Mushrooms taught by the famous Freeman Rowe in 1995,  Chris became part of the core group that puts together the Mushroom Display at the annual Mount Pisgah Arboretum Mushroom Festival and subsequently formed the Cascade Mycological Society. You will usually find Chris staffing the Edible and Poisonous Mushroom Display at the Mt. Pisgah Mushroom Festival. He also gives Guided Mushroom Walks at the Yachats Mushroom Festival. Chris has served on the CMS Board continuously since it's inception.  Chris often leads CMS forays, and frequently gives talks on the Ecology and Biology of Mushrooms at local community events with his wife, Molly Widmer, another founding CMS board member.
Pavel Gubanikhin (Treasurer)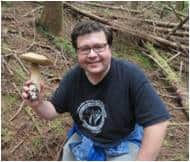 Pavel started foraging for wild mushrooms at the age of four with his grandparents while growing up in Russia.  When Pavel and his family moved to Eugene from Florida in October 2008, they attended their first Mount Pisgah mushroom show the very next day after coming into town, and have been enjoying mushroom foraging ever since.
Pavel has a Bachelor's degree in urban and regional planning, a Master's degree in public administration, and over twenty years of experience in local government budgeting and finance with city and county governments in Ohio, Florida, and Oregon. Pavel currently works as a finance manager for the City of Eugene and had previously served as a treasurer for the Southeast Neighborhood Association and the downtown Public Speakers Club.
Pavel has been a CMS board member since 2012 and is currently the CMS treasurer and leads several CMS forays each year.  Pavel's top priorities as a treasurer are to provide the timely and accurate accounting of revenues and expenditures to the CMS board and members, keeping the CMS operating costs as low as possible in order to maximize funding for mycology scholarships and CMS events, and making sure that the CMS finances are fiscally sustainable in the long run.
Matthew Johnson (Foray Coordinator)
Matthew Johnson first started foraging for mushrooms in the mid-'80s.  In 1989 he was lucky enough to attend  Freeman Rowe's Biology of Mushrooms class at LCC.  Since that time he has helped each year to put together the annual Mount Pisgah Mushroom show.
He first joined the CMS Board in 2002 but had to quickly resign because he got a job offer in the  Republic of Palau, a small island nation in the Western Pacific.  He re-joined the Board in 2005 when he returned.  Over the years he has served in various officer position on the board.  He has led many a foray for CMS and also leads mushroom walks each year at the Yachats Mushroom Festival.
Matthew is a banjo player, a SCUBA diver, a photographer, an amateur anthropologist, and a dad.  He is also an attorney, as is his wife Meredith, who is a former Board member and past President.  Matthew & Meredith have a nine-year-old daughter, who is an avid if reluctant mushroom picker, that won First Place in the Best of Show at the 2015 Mushroom festival with a potentially new species of Hypomyces.
Cori Sanchez (Board Secretary)
Cori started attending CMS Board Meetings in May of 2018. Shortly after, Heather Sielicki, our past Board Secretary resigned due to her numerous other Eugene activism commitments.  So, Cori jumped right in and volunteered to officially join the Board as a voting member and assume the role of documenting all CMS Board meetings.
Note: Resignd at the end of 2019
Lee Yamada (NAMA liaison)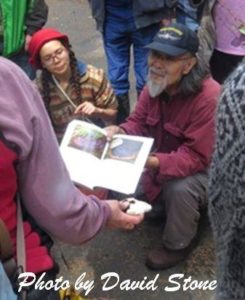 Lee and his wife Phyllis Cole moved to Eugene from California in early 2016.  It did not take Lee very long to seek out CMS and dive right into getting involved. Lee joined the CMS Board in 2017 and came with a wealth of mushroom organization skills.  He was very involved with the Santa Cruz Fungus Federation serving as their representative to the North American Mycological Association (NAMA). He also organized the annual Santa Cruz Fungus Fair for over 10 years and served as the National Foray Leader for the NAMA in 2002, when the National Foray was held at Diamond Lake in Oregon.
Bob Blanchard (new CMS Board Member)
Bob and his wife Debbie moved to Eugene from northern California in 1981.  In 1998 Bob was fortunate enough to meet Marcia Peeters, who, with other local mycologists, was about to start a local mushroom club – the Cascade Mycological Society.  Having photographed mushrooms for a couple of decades and having a keen interest in learning more about them, Bob was thrilled when Marcia asked if he'd like to be part of founding the club.  Bob said he'd be glad to attend the meetings without saying a word, absorbing all he could about mushrooms – giving a new meaning to Sponge Bob.  Bob has been active in CMS ever since, helping out with the Mount Pisgah Arboretum mushroom festival, and joining the board in 2019.  Bob is also an avid birder, photographer, and woodworker. Bob joined the CMS board in March of 2019.
Erin Brown (new CMS Board Member)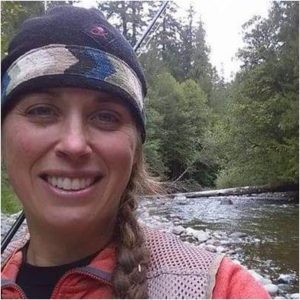 Erin has been an avid outdoor enthusiast for a long as she can remember. Born and raised in Spokane, WA, she relocated to Springfield, OR in 2008. Prior to the move, she was a Park Ranger in North Cascades National Park. As an amateur photographer, she has always had a passion for nature photography and is drawn to the diversity of color, texture, and shape of mushrooms. She began foraging wild edibles on her own about 15 years ago after several years of 'just looking'. Erin joined CMS in 2016 and enjoys going on forays with her 10-year-old daughter Madison and 8-year-old son Parker. They don't like to eat them much (except when she turns Pseudohydnum gelatinosum into gummies), but they sure have eagle eyes. Erin currently works for the Springfield School District as a substitute Educational Assistant and also enjoys volunteering at her kid's school. Pastimes include camping, fly fishing, floating rivers, hiking, pottery, reading, knitting, and cooking… to name a few. Erin joined the CMS board in March of 2019.
Note: Sandy Patton (Webmaster & Newsletter) are leaving the CMS Board, but will continue with their current activities.