Do Edible Mushrooms in Oregon Contain Radioactive Contaminants?
Matt Trappe, one of the authors of "North American Truffles," will talk about local mushrooms having radioactive contaminants on October 10th. Matt is a research ecologist with over 15 years experience working in western forests. He specializes in disturbance ecology particularly fire, and mycology, as well as soil microbiology, DNA and isotopic analysis, forestry, and botany. Matt has a Ph.D in Environmental Sciences and a MS in Forest Science/Forest Resources, both from OSU. He also has a BS in Electronic Engineering/Automated Manufacturing and worked as Read more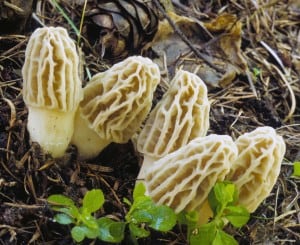 This Thursday, March 14, the CMS general meeting will feature our very own Chris Melotti, who will be presenting "Morels, Truffles and Other Spring Mushrooms". This presentation was originally created by Dr. Micheal Beug, who will not be in attendance. While spring is not the peak time for northwest mushrooms, there are still plenty of interesting fungi out there, please join us for some interesting photos and discussion of what can be found at this season.
Dr. Michael Beug taught Read more
Our December general meeting will feature the Spanish mycologist Dr. Luis Gonzaga. Dr. Gonzaga will present about studies of European black truffle ecology. He will discuss evidence supporting the hypothesis that "Ectomycorrhizae could be 'liming' host plant roots".
Please join CMS in welcoming Dr. Luis Gonzaga. Our general meetings are the second Thursday of the month. Meet at 7 PM, Room 115, Science Building (Building 16) at Lane Community College in Eugene. The presentation is free and open to the public.
Meet at 7:00 pm, room 115, Science Building (Building 16) at Lane Community College in Eugene.
Meeting presented by Chris Melotti.  See the complete slide deck for Morels, Truffles and other Spring Mushrooms, by Michael W. Beug.
December's speaker is Charlie LeFever, Phd. co-founder of the Oregon Truffle Festival and propertier of New World Truffieres. Dr. LeFever will give a talk entitled "Diamonds under the Douglas Fir: an introduction to the wild and cultivated truffles in Western Oregon."
Meet at 7:00 pm, room 115, Science Building (Building 16) at Lane Community College in Eugene