Thank you to everyone who participated in the 2012 Photo Contest. For all those who did not get the chance to see the framed prints at the Mushroom Festival, or who were having too much fun to notice them, we are proud to announce the three winning photos here. The winners are :
Doug Gammie, who sent this photo of Phaeolus schweinitzii
and Joaqin Sanchez Romero, who sent this photo of Oudemansiella mucida taken from beech forest in Sierra de Izarraitz, Spain
Don't miss the 31st annual mushroom show at the Mount Pisgah Arboretum! This is the largest event of the year for CMS, and is always a special treat for everyone either seriously or casually interested in regional fungi. It is also an important fundraising event for the Mount Pisgah Arboretum.
Sunday Oct. 28th, 2012, 10 AM-5 PM.
Mushroom Exhibit, Live Music, Kid's Activities, Great Food & Wine, Arts, Crafts, Books.
Please see mountpisgaharboretum.com for more information.
We received many beautiful photos of mushrooms for the contest and selected three for display at the festival. Here they are in case you didn't get a chance to see the prints there. We'll also be looking at some photos (time-permitting) at November's general meeting.
The three winners are:
Joaquin

Romero, who sent this picture of Mycena seinesii from Vizcaya, Spain
Stewart Meyers, who sent a picture of Amanita muscaria from Honeyman State Park, OR.
Kevin Hups, who sent a picture of oyster mushrooms fruiting from a plywood deck in a shipping container that had been sealed up for a decade, in Colorado.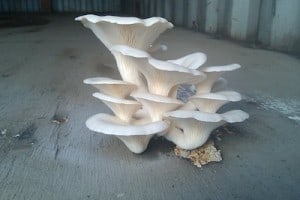 (You may click on the photos for a higher resolution version)
LAST CALL FOR PHOTOS!!!
Deadline extended to Oct. 24th, last chance to send in your photos!
As some of you might know, this year's Mt. Pisgah Arboretum Mushroom Festival will be the 30th! The Cascade Mycological Society has been a big part of this festival from the beginning and we are excited to be bringing a number of special events and activities to celebrate.

The first of these we are proud to announce is a mushroom photography contest. Any and all are free to contribute photos related to mushrooms, mushroom culture, and our fungal pals in general. The best of the bunch will be selected for a special display at the festival and the winners will receive recognition and prizes from the CMS.
The rules are simple, just send up to 3 digital photos to photocontest@cascademyco.org. In your email include your full name as you'd want it to appear next to your prize winning photo and any details you might want us to know about the photo and what it means to you. Note that we greatly prefer digital files but if you have a picture that you must submit and don't have in digital form, you can send us an email and we'll try to help with other arrangements. Please send pictures as JPG files at full resolution, so that prints of the images look their best.
The photos need to be in by Oct 24th so they can be judged before the show.
Fine print stuff:
By sending us your pictures, you grant the CMS a license to use your photo for contest purposes and to display your photo at the festival and at later dates in CMS communications including this website. If your image is used for CMS communication, you will be credited as the photographer.

Mt. Pisgah Mushroom Species List has been updated for 2010 to include data up to the 2009 Mushroom Show.
Download the mt_pisgah_show_list_1983-2009 (PDF), or mt_pisgah_show_list_1983-2009 (XLS).
The Mushroom Festival, co-sponsored by the Cascade Mycological Society, is held on Sunday October 25th 2008 from 10am to 5pm, and features a broad range of fungi collected throughout western Oregon. Experts are on hand during the show to help with mushroom identification. The Mushroom Festival also includes hayrides, cider pressing demonstrations, wine tasting, and a scarecrow contest.
Suggested donation:
$5/person or $10/family. MPA members free!
Visit the Mt. Pisgah Arboretum website for more details.

We have updated species lists for the Mt. Pisgah Mushroom Show, Hendricks Park and the Common Mushroom Check List:
Thanks to Bruce for providing this excellent resource! The lists now contain data for 25 years at the Mt. Pisgah.
Two weeks ago (9/12) Science Friday had a one hour radio show on "The Fabulous Mushroom," featuring people calling in and asking questions to an expert panel. You can listen to the show in a stream or downloadable mp3 from their website at www.sciencefriday.com. There is also a video, below, check it out!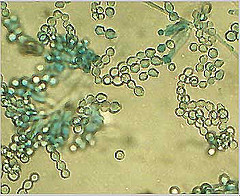 The American Academy of Microbiology has released its newest colloquium report, "The Fungal Kingdom: Diverse and Essential Roles in Earth's Ecosystem."
The report is the product of a colloquium convened by the Academy in November 2007, where experts in mycology, medicine, plant pathogens, and ecology discussed the current state of research in mycology and compiled a list of specific recommendations for future work. This report explores the roles fungi play in the world around us. Fungi can cause a number of life-threatening diseases, but they also are becoming increasingly useful to science and manufacturing every year. Research is critically needed in this field to bring about a better understanding of this kingdom.
You may access the report in its entirety at American Academy of Microbiology.

The March meeting of the Cascade Mycological Society features Daniel Winkler. Daniel cover a topic related to his mycological explorations of Tibet.
The meeting will take place at Lane Community College Building 16, room 115 at 7:00pm (Directions).
For more information, please contact Kyle at 463-5260 or send email to hammonk@lanecc.edu
Mushrooms in Tibet – Daniel Winkler – MushRoaming.com
Tibet is famous for its absolutely stunning landscapes and its fascinating ancient culture. Maybe this abundance of attractions explains why its globally unmatched fungal economy has not received more attention yet. For centuries, Tibetans have collected and traded mushrooms; "Yartsa gunbu" (caterpillar fungus – Cordyceps sinensis) even functioned traditionally as a currency.
Improved communication and the commodification of natural resources have caused an astounding mushrooming of the fungus industry. The market is dominated by Yartsa gunbu, which accounts for over 95% of the fungi market value. In Tibet, it contributes 40% to the rural cash income. Its contribution to the GDP equals the whole manufacturing and mining sector. Currently it is the world's most precious medicinal fungus reaching over $30,000 per kg. Every year in spring, Tibetans comb the alpine grasslands for this elusive fungus feeding on larvae, while forest down below are searched for "gugu shamo", the "cuckoo mushroom" (Morchella spp.), which is exported to Europe.
During the summer, "besha" (Tricholoma matsutake) is collected to be flown fresh to Japan. Daily, entire villages with access to oak forests – hence the Tibetan name "oak mushroom" – collect besha for a 6-8 week period. An array of other mushrooms, such as Amanita hemibapha, Hygrophorus russula, Rozites emodensis, many boletes (Boletus, Leccinum), Cantharellus, and several species of Sarcodon and Tricholoma to mention a few, is also collected for the markets.

This presentation will combine Daniel's fungal research with highlights from his recent "MushRoaming" tours to Tibet http://www.mushroaming.com/ ranging from familiar and exotic mushrooms, mushroom markets, local collectors to monasteries nestled at the foot of ice capped mountains.
Daniel Winkler, trained as a geographer and ecologist, works as researcher and NGO consultant on environmental issues of the Tibetan Plateau and Himalayas. He has published on forest ecology, forestry, land-use, and medicinal plants and fungi (see www.danielwinkler.com ). Since 1998, Daniel is tracking yartsa gunbu, researching Tibet's mushroom industry and its importance for rural people. Daniel is also leading "MushRoaming" tours to Tibet ( www.mushroaming.com ). He lives in Kirkland, WA and has been a member of the Puget Sound Mycological Society since 1996. (Image from mushroaming.com, a Tibetan painting)
Mount Pisgah Mushroom Show Species List 1983-2006
Download Excel Spreadsheet
Download PDF

Hendricks Park Species List
Download Word Document
Image Courtesy M.Johnson