Did you know that the amazing mushroom display at Mount Pisgah Arboretum's (MPA) Mushroom Festival is entirely collected, identified, displayed and interpreted by CMS volunteers? (Of course, we have wonderful guest experts assist us with identification.) You can help! Here's how…
Collect mushrooms
CMS will be organizing special forays to collect mushrooms for the show – watch the CMS website for details. You can also collect mushrooms on your own and bring your treasures to MPA's White Oak Pavilion on Saturday, 10/26, between 10 am and 3 pm. Will your huge Cauliflower Mushroom, fresh young Stinkhorn, or picture-perfect Scaly Pholiota win "Best of Show?"

Help set up on Saturday
You can help place mushrooms in the display, hang posters and signs, set up educational displays, and organize the CMS booth. You don't need to sign up to help out, just show up at the White Oak Pavilion on Saturday, 10/26, between 10 am and 2 pm.
Help set up on Sunday
Sunday morning, 8:30 – 10:00 AM is always a scramble to clear, clean and organize before the show opens. Again, just come early and we'll gratefully put you to work. Help share the fungal fun – booth volunteers talk to people about the CMS mission and upcoming events. You can also Read more
As you've heard, Langdon Cook, author of "The Mushroom Hunters" and "Fat of the Land" is our featured speaker at the LCC Forum this Friday. He is also going to be at the Mt. Pisgah Arboretum Mushroom Festival on Sunday.
Steve Trudell will also be available at the Mushroom Festival on Sunday. He is the co-author of "Mushrooms of the Pacific Northwest" along with Joe Ammirati and has recently co-authored the new book, "Tricholomas of North America – A Mushroom Field Guide."
CMS has a great new design for T-shirts this year, Hydnum repandum. Mushroom earrings and mushroom center pieces will also be available for sale, along with a mushroom walking stick that will be raffled off.
Hope to see you Friday evening at 7 PM at the LCC Forum and at the Mt. Pisgah Arboretum Mushroom Festival on Sunday, 10 AM to 5 PM.
Suggested Donation: $8 per person, children under 12 free.
Take exit 189 off I-5, just south of Eugene-Springfield.
Free shuttle from Civic Stadium every hour on the hour!
Thank you to everyone who participated in the 2012 Photo Contest. For all those who did not get the chance to see the framed prints at the Mushroom Festival, or who were having too much fun to notice them, we are proud to announce the three winning photos here. The winners are :
Dawn Stetzel, who sent this photo of "The Prince" (Agaricus augustus) taken from the Oregon Coast
Doug Gammie, who sent this photo of Phaeolus schweinitzii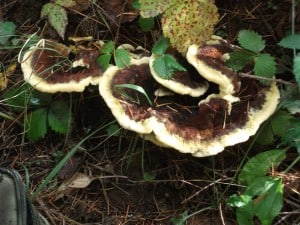 and Joaqin Sanchez Romero, who sent this photo of Oudemansiella mucida taken from beech forest in Sierra de Izarraitz, Spain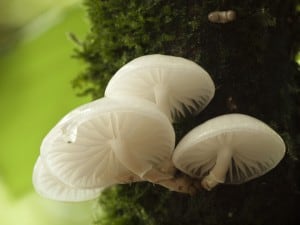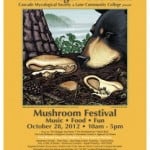 Don't miss the 31st annual mushroom show at the Mount Pisgah Arboretum! This is the largest event of the year for CMS, and is always a special treat for everyone either seriously or casually interested in regional fungi. It is also an important fundraising event for the Mount Pisgah Arboretum.
Sunday Oct. 28th, 2012, 10 AM-5 PM.
Mushroom Exhibit, Live Music, Kid's Activities, Great Food & Wine, Arts, Crafts, Books.
Please see mountpisgaharboretum.com for more information.
Photos: Eugene's 31st annual Mushroom Festival
We received many beautiful photos of mushrooms for the contest and selected three for display at the festival. Here they are in case you didn't get a chance to see the prints there. We'll also be looking at some photos (time-permitting) at November's general meeting.
The three winners are:
Joaquin

Romero, who sent this picture of Mycena seinesii from Vizcaya, Spain
Stewart Meyers, who sent a picture of Amanita muscaria from Honeyman State Park, OR.
Kevin Hups, who sent a picture of oyster mushrooms fruiting from a plywood deck in a shipping container that had been sealed up for a decade, in Colorado.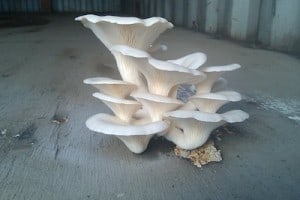 (You may click on the photos for a higher resolution version)