Our Jan. speaker is Britt Bunyard, editor of Fungi magazine. He will give a talk titled "From maitake to morels, a regional look at the edible mushrooms of North America."
Britt is a college professor who has taught a broad range of undergraduate and graduate Biology courses, including Evolution, Microbiology, Mycology, Invertebrate Zoology, Plant Physiology, Biochemistry and Environmental Science. The main focus of his research interests is on the coevolution of macrofungi and Diptera, the true flies. Scholarly achievements include publication of scientific papers in numerous research journals, book chapters, one patent, articles in popular science magazines, and one full-length book of travel essays from living in Southeast Asia. Until recently, he was Editor-in-Chief of NAMA's journal McIlvainea and newsletter The Mycophile, and as a Subject Editor for the Entomological Society of America's journal Annals of the Entomological Society of America.
Meet at 7:00 pm, room 115, Science Building (Building 16) at Lane Community College in Eugene
SOLD OUT
Our 2011 Fungal Feast takes place at the King Estate Winery on February 4th, 2011 at 6:30pm
96 tickets will be available. The first offering of tickets will go on sale on January 1st 2011 to active CMS members only for $30.00 a person. Any tickets remaining on January 15th 2011 will become available for non-members to purchase at $40.00 a person. If you are an active member of Cascade Mycological Society (having renewed in 2010) check your email and mailbox for additional information on how to purchase tickets. If you have not yet received this notice and believe you are an active member of CMS please contact membership@cascademyco.org. If you are not an active member and wish to become one, you can submit your membership payment through http://cascademyco.org/become-a-member/.
For additional information on the King Estate Winery go to http://www.kingestate.com/
The buffet style Fungal Feast meal will include:

Hedgehog mushroom soup with black truffle dumplings (vegetarian)
Smoked pork loin with orange and black trumpet compote OR Braised portobellos stuffed with piquillo peppers, chard greens, artichokes and parmesan (vegetarian)
Roasted root vegetables and winter chanterelles (vegetarian)
Truffled potato and mushroom dauphenois (vegetarian)
December's speaker is Charlie LeFever, Phd. co-founder of the Oregon Truffle Festival and propertier of New World Truffieres. Dr. LeFever will give a talk entitled "Diamonds under the Douglas Fir: an introduction to the wild and cultivated truffles in Western Oregon."
Meet at 7:00 pm, room 115, Science Building (Building 16) at Lane Community College in Eugene
Our next group foray will be led by board member Joe Spivack, who will lead us into the forests in the coastal range west of Eugene. This foray will take place in BLM areas. No permit is required for small quantities of mushroom collection.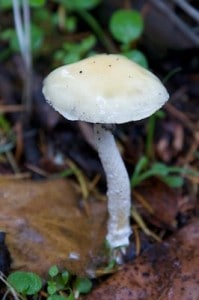 Forays are limited to CMS members (and friends) only. You can become a member on Saturday to join us! 
Meet at the South Eugene High School by 8:45 for introductions and directions. We will leave at 9:00am sharp. An alternative meeting place will be the Lorane Post Office at 9:30.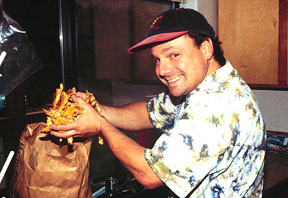 This month's speaker will be Dr. Matt Trappe who will present a talk titled "Shaking the fungal tree of life: exploring relationships between truffles and mushrooms."
Dr. Trappe is a research ecologist with over 14 years experience working in western forests. His specialties are disturbance ecology (particularly fire), mycology and soil microbiology, DNA and isotopic analysis, forestry, and botany. He holds a Ph.D. in Environmental Sciences and a M.S. in Forest Science/Forest Resources, both from Oregon State University
Meet at 7:00 pm, room 115, Science Building (Building 16) at Lane Community College in Eugene