Join us on Thursday, January 8, 2009 at our General Meeting for speaker David Pilz Dan Luoma, for a talk on Oregon's Emergent Culinary Truffle Industry. We will meet at our usual location: LCC Building 16, Room 115 at 7:00pm:
Of all the World's culinary delicacies, truffles stand out as the ultimate luxury food. Among the regions where they are or can be grown, Oregon has a suite of competitive advantages for their production. We have our own delicious native truffles and have all the resources needed to produce large quantities of cultivated European truffles. Oregon now stands on the cusp of a unique opportunity to become a world leader in the production of this highly prized rarity.
The truffle white paper that David will discuss explains the opportunities that a truffle industry offers Oregon and how to go about developing a premier industry, one that is characterized by high-quality products, ethical business practices, environmentally responsible production, and widely accrued benefits.
NOTE: Last minute speaker change, Dan will be presenting Dave's presentation as Dave became unavailable at the last minute. Thanks Dan!!
UPDATE:  The current rough draft of the white paper presented at this meeting is available.
Join us on Thursday, December 11, 2008 at 7:00pm at LCC:
Dr. Bitty Roy will speak about her recent research in Ecuador.  Her talk is entitled: "Mushroom mimicry by Dracula orchids and other cool stuff in the cloud forest." This promises to be a very interesting look at some of the more exotic fungi– as well as a group of plants that would like you to think they are fungi!
Dr. Bitty Roy is a professor of Biology at University of Oregon in the Center for Ecology and Evolutionary Biology.  She spoke for CMS before on the topic of "Fungal Rusts and One Smut" and conducts research in many parts of the world including the Willamette Valley, Switzerland and Ecuador.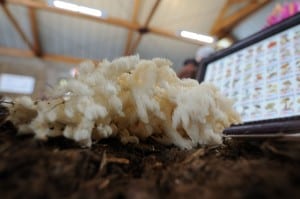 Forays are limited to CMS members (and friends) only.  It's likely we'll head towards the Cascades.
Meet at the South Eugene High School by 8:45 for introductions and directions. We will leave at 9:00am sharp.
You can become a member on Saturday to join us!
Join us for a talk by adventurer and natural resource specialist Daniel Winkler. Daniel will cover Flavorful, Fancy & Foul Fungi From Far Flung Places Around The World. The presentation will include fantastic slides and stories from his many travels. The meeting takes place at Lane Community College, Building 16, room 115 at 7:00pm on Thursday November 13th, 2008.
Daniel grew up in Munich, Bavaria, and started hunting mushrooms as soon as he was able to keep up with his family in the forests. He studied geography, botany and ecology in order to work on environmental issues in the Himalayas and Tibet, where he has been researching and consulting for twenty years. As part of his research Daniel has been focusing on medicinal and edible mushrooms in Tibet for many years. Years ago Daniel moved to Seattle and joined the Puget Sound Mycological Society, which enticed him to take his love for mushrooms to a whole new level. Being an expert on wild edible mushrooms on three continents and an organizer of mushroom tours [www.MushRoaming.com], Daniel keeps venturing out into new and old habitats and cultures to feed his curiosity and his family, along the way capturing images and gathering stories to share.
November 7-9, 2008: Learn about the biology, ecology and field identification of mushrooms.  Investigate edible as well as poisonous mushrooms of the Pacific Northwest.  Prowl the Illinois Valley for mushrooms on Friday.  On Saturday, drive the scenic Smith River Gorge, scout for mushrooms ni teh redwoods and along the Oregon Coast, and spend the night at the Redwood Youth Hostel (lodging included).  On Sunday, continue shrooming along the coast and inland.  beginners and teh fingi-literate are welcome.  Go to the Deer Creek Center on the Siskiyou Field Insitute website for more information.  Taught by David Lebo, Deer Creek Center, Selma, Oregon and Oregon/California Coast.  Tuition: $140.   Course Code: MUS8.  Naturalist Certificate.